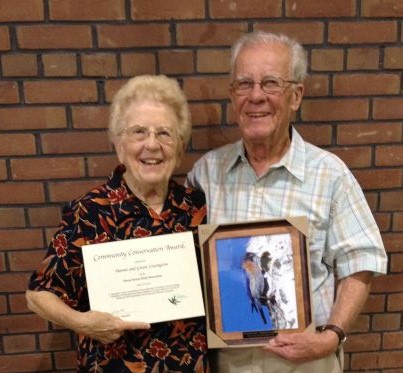 Dennis and Gwen have been enjoying the Bruce Peninsula for over 50 years. They started bird watching in 1982 when a Pileated Woodpecker landed on a large maple tree in front of their cottage and out of curiosity, purchased a field guide. They were hooked!
They were encouraged by Martin Parker to participate in the first Bird Atlassing Project and subsequently volunteered again from 2001 - 2005. Martin was Dennis' mentor and provided him with four bluebird nesting boxes to put up on the Bruce. These first Eastern Bluebird nests were located at Silver Creek Cemetery in 1982. Since then Dennis and Gwen have fledged 2,723 Eastern Bluebirds.
Today they check 100 bluebird boxes during the breeding season. They have also had good success with Tree Swallows, House Wrens and Black-capped Chickadees.
Gwen is a valuable secretary and has been maintaining the fledging records since the beginning.