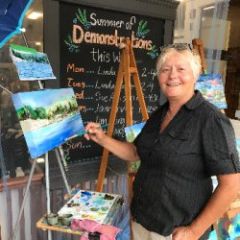 Sue graduated from the Ontario College of Art 1971, specializing in Communications and Design with a special interest in fine art.
As an Exhibit Designer for the Ministry of Natural Resources in the 1970s, Sue began her career working closely with biologists and naturalists. This gave her a deep appreciation for the environment which was demonstrated in the original displays for the Visitor Centre at MacGregor Point Provincial Park.
Sue has a distinctive style as evidenced in her watercolour, oil and acrylic paintings. She teaches watercolours, drawing and basic sketching techniques and will be using these skills as she guides you to add a brushstroke to an interactive community painting of the MacGregor landscape.