MacGregor Point Provincial Park is one of the most overlooked natural wonders along the Lake Huron shoreline.
Over seven kilometres of Lake Huron shoreline provide the perfect backdrop for this natural environment park.
Whether you are out for the day or staying overnight, remote stretches of windswept shoreline, winding forest trials, private campsites and entertaining interpretive programs are all designed to pique your curiosity and make your visit not only enjoyable, but memorable.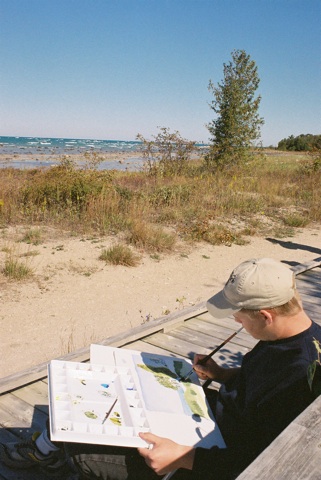 Where is MacGregor Point?
MacGregor Point is located on the shores of Lake Huron approximately 5km south of Port Elgin, ON. View Map.
Day-Use at MacGregor Point
If you happen to be in the Bruce County area but on a timeline, stopping by the park for Day-Use activities is always a great idea. Whether you feel like a leisurely stroll along the shoreline, an extended bike through the forest, a quick dip in the lake or dropping in on one of our interpretive programs.
Camping at MacGregor Point
Thinking about spending a night or two or more with us? That's great! You're going to love the selection of generous private campsites within 3 different campgrounds, top notch comfort facilities and abundant park services MacGregor Point has to offer. The Park Store is here for those times you need more firewood, an extra sweater or just a big ice cream cone on a hot summers day.

For those who think sleeping on the ground in a tent is a bit "too close to nature", MacGregor Point has just what your looking for: Cabins! MacGregor Point is home to 10 Rustic Cabin campsites, complete with beds to sleep 5, a kitchenette with mini fridge and microwave, and a BBQ.

You won't regret choosing MacGregor Point for your next camping excursion. To make a reservation, contact Ontario Parks.
Trails
With over 20kms of hiking, biking, snowshoeing and cross country ski trails within MacGregor Point there's plenty of exploration to be done. Many of the trails have been routed to many of the main attractions of the park specifically for those who would not use their car within the park. If you're interested in seeing what the bright lights of Port Elgin has to offer, the Rotary Way Trail connects MacGregor Point to town and continues to Southampton by meeting up with the Rail Trail.